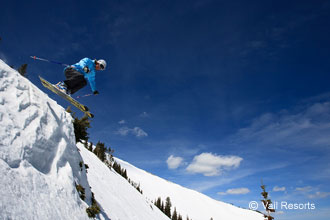 Keystone's placement within the White River National Forest gives it an edge when it comes to resorts. Keystone boasts three peaks, 135 trails, and a total of 20 lifts, two of which are gondolas.
Beginner skiers and snowboarders can perfect their skills on Dercum Mountain. Intermediate and expert skiers will appreciate long trails full of varied terrain on North Peak, while the best tree runs are found on Outback's North and South Bowls. For the adventurous, there is the A-51 Terrain Park, with its jumps, rails, and the Superpipe. Terrain upgrades have even attracted members of various U.S. ski teams for training. The Mountain Service Program staff is available to answer any questions, schedule activities, and make dining reservations.
Summer in Keystone brings bikers to test the nearly 60 miles of trails, some of which are daring downhill runs. Keystone's proximity to the Colorado River and Keystone Lake makes boating, white-water rafting, fishing, and kayaking readily available. A scenic gondola or lift ride is a favorite way to appreciate the mountain; just make sure to bring your camera!
Keystone's enthusiasm to please you will stay with you long after you leave.
Keystone features:
Night skiing features a "36 Hours at Keystone" event for nonstop skiing
Largest zamboni-maintained outdoor skating rink
Heated Sno-Cat tours of the mountain take you above the tree line
Two incredible golf courses also offer amazing views of the mountain
Keystone Lodge Spa, 10,000-square feet of luxury
Child care
Find all lodging for Keystone